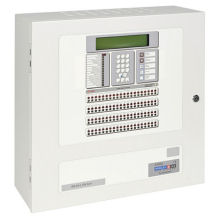 Fire Alarm Systems
There are numerous types of fire alarm system available in the market today, listed below are some of the many types supplied by Premier Fire & Safety Systems Limited
Conventional / Two Wire
A traditional fire alarm system, where upon activation of any call point or detector (smoke or heat) will activate the sounders and beacons and enable the building to be evacuated. On this type of system the building will be wired in zones (e.g. one per floor) and the panel will identify the zone in alarm. Sounders can be wired on separate circuits or new systems now offer sounders and beacons on the zone wiring to reduce installation costs.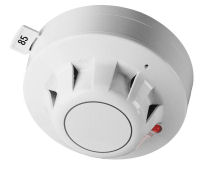 Analogue Addressable
This type of system uses a simplified cabling layout and is able to highlight the particular device that has activated the alarm (e.g. call point main entrance). This format enables considerably quicker identification of the cause of alarm and is often used in larger or more complex types of building.
Radio
Radio fire alarm systems are simple to install as no wiring is required except for the supply to the main panel. This type of installation causes very little disruption of the premises during installation. Again as above this type of system can identify the detector or callpoint that has originated the alarm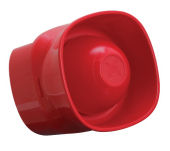 Aspirated System
A form of smoke detector which gives a very early response to smoke detection. It detects smoke particles suspended in the air by identifying the light scattered from the particles in a laser sampling chamber.
Voice Alarm
An Emergency Voice Alarm Communication system is required in large facilities where general undirected evacuation is considered impracticable. Highly recommended for use in public buildings and places of entertainment.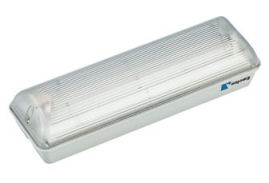 Emergency Lighting
Emergency Lighting is designed to come on when the power goes down in a building. These lights are essential to the safety of people during a power outage, when normal lighting fails. Emergency lighting must comply with the Code of Practice for the emergency lighting of premises: this outlines where lights should be positioned, minimum height and glare levels. Premier Fire & Safety Systems offer a comprehensive range of emergency light fittings, luminaires and conversion applications.
Self Contained
A light or sign providing emergency lighting, in which all the parts such as the battery, lamp and control unit are contained within the housing or within 1 metre of the housing. These are available in several versions. Non maintained which are on standby and are only illuminated when the mains power source is removed. Maintained which are on permanently and will remain lit when power is lost, it is permissible to switch the mains only side of this fitting. Sustained or combined where the fitting may have two tubes, the first will operate on mains only and the second tube will illuminate in a power failure situation.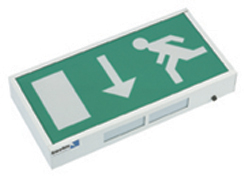 Automatic Self Testing
This enables owners of premises to comply with testing regulations in a simple and cost effective manner. This system continuously monitors the charging of the battery and the condition of the lamp and in the event of a failure of the fitting the fitting will show a red failure LED and will sound to draw attention to the failure.
Central Battery Systems
A system in which the batteries and charger are housed in one location together with monitoring of the mains supply and if required sub-circuits. Can supply total or part loads as required.
Static Inverter
A static inverter runs conventional mains lighting at full brightness during both normal conditions and power outage situations. Does not require installation of special fittings.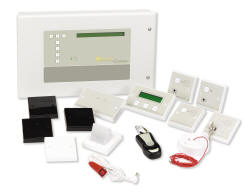 Nurse Call Systems & Other Safety Systems
Nurse call systems are an essential part of life in nursing and residential homes. Residents are able to call staff quickly and efficiently and are assured that assistance is just a button-press away. There are several types of call systems that can be used.
Conventional
A standard Nurse Call allows residents to call staff through hardwired call buttons with pull cords, emergency push buttons or emergency pull cords. Staff is notified, identifying the type and location of the call on an indicator panel at reception or the nurse station. Installation of this system is easy and quick.
Radio
A wireless system is similar to the above, but does not require wiring and therefore causes no disruption to the premises. Can easily be added to or repositioned without affecting the operation of the system. The applications for this system can be limited by radio signal strengths and a full site survey must be carried out before installation.
Addressable
This type of Nurse Call is tailored to suit your facilities' specific requirements. Different day/night or call divert arrangements can be set to suit your needs. This system allows different levels of call and a call, from a patient can be upgraded by the attending nurse should further assistance be required.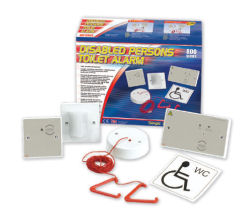 Panic / Attack Alarm System
This type of system can be used when staff are interviewing or meeting members of the public in a secure room or, for example at petrol stations when the cashier may require assistance in a hurry.
Disabled Toilet Alarm System
The Premier disabled person's toilet alarm kit includes everything required for a compliant, reliable and easy to install disabled persons toilet alarm attractively designed and simple to use it allows a distressed person to call for assistance in an emergency. To operate, the user simply pulls the cord and an alarm is shown and heard at the control panel, an overdoor lamp buzzer sounds and a LED is shown on the call unit to reassure the caller that the alarm has been raised.
Loop Induction Systems
Premier Fire and Safety Systems Limited offer a full range of Loop Induction Systems. Hearing loops or Audio-frequency induction loop systems (AFILS) work by transmitting amplified sound to hearing aids. Most hearing aids have a 'T' or 'MT' switch which allows them to pick up the electromagnetic signal generated by an induction loop system. The hearing aid converts this signal into sound suited to its user's specific hearing requirements, allowing them to participate more fully in general conversation, ordering goods or services, etc.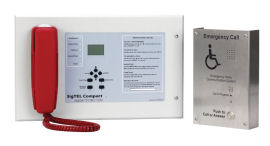 Disabled Refuge Alarm
For most people, a simple instruction like "please leave the building by the nearest available exit" can be acted upon quickly and easily. But for wheelchair users, the disabled and infirm, this isn't always the case. Current Building Regulations recognise this and insist that all new non-domestic buildings with more than one storey provide 'refuge' areas – relatively safe places where people who cannot easily use fire escapes and evacuation lifts can call for assistance and wait until help arrives.
Simple and effective two-way communication in these areas is essential, firstly to assist rescue teams in determining where assistance is required and secondly to reassure people help is on the way. Communication systems in refuge areas are known as Emergency Voice Communication (EVC) Systems. Their design and installation is governed by BS 5839 part 9. Not only is the system incredibly easy to use, it is hugely cost-effective in comparison to others on the market.